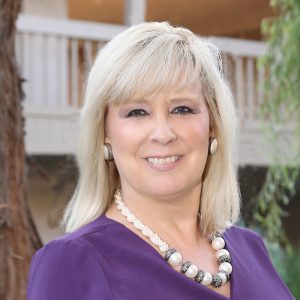 Principal
Teresa Rhyne is the principal of the law firm—her name is right there in the lights, so to speak. She's also the head dog-wrangler—that's not a reference to the employees; she actually from time to time has a dog with her in the office. That's usually who the clients really want to see, but we insist you not take any legal advice from her beagles (no matter how much that rhymes). "More food please" is not legal advice and should not be taken as such.
Teresa's practice focuses on developing comprehensive and sound estate and charitable tax plans for business owners, individuals and families—however defined.
Teresa acquired her legal expertise at U.C. Santa Barbara, where she graduated with a BA and high honors in Law and Society, and Loyola Law School, where she earned a Juris Doctorate at the age of 23. Her strong educational background is enhanced by over 30 years in the field of estate planning, trust administration and business and tax law. Teresa is a frequent presenter at seminars for the general public as well as instructing other attorneys and professionals on estate planning, charitable planned giving and family business succession planning.
Teresa is also a New York Times #1 best-selling author. Her debut memoir "The Dog Lived (and So Will I)" was released in 2012 reaching #1 on the New York Times best-seller list twice, #1 on the Wall Street Journal best-seller list, and #6 on the USA Today best-seller list. It has been translated into six different languages, was on the best-seller list for 9 consecutive months in Brazil, and is sold around the world. Her second memoir "The Dogs Were Rescued (and So Was I)" was released in 2014 and has won awards from the Dog Writers Association of America. Her third memoir, "Poppy in the Wild" [ORDER HERE!] was published by Pegasus Books on October 6th, 2020. Poppy (one of Teresa's beagles) is pretty sure she'll take over the world too.
In addition to her law practice and her writing, Teresa is involved in a wide range of business and community activities, including:
Contributing Columnist for "Women and Money Mindset" in the Press-Enterprise and other syndicated newspapers
Founder, President and long-time board member of The Pink Ribbon Place, a breast cancer resource center
Board of directors for the Cancer Support Community of San Luis Obispo County
Committee Member of Paso Robles Chamber of Commerce Women In Business
Founding member, Rogue Business Group, North San Luis Obispo County
Vice-President of The Raincross Club, Riverside, CA
Board of directors and two-time President of Alternatives to Domestic Violence
President of the Greater Riverside County Estate Planning Council
Board of directors of the Riverside Public Library Foundation
UC Riverside's Planned Giving Advisory Board
Board Member- The Community Foundation
President of the board of directors and Capital Campaign co-chair of the Riverside Humane Society Pet Adoption Center (Now Mary S. Roberts Pet Adoption Center)
Past Chair of the Professionals Campaign for United Way of the Inland Valleys and recipient of their Outstanding Volunteer of the Year Award
Board of directors for the Resource Center for Non-Profit Management
Board of Directors of the Riverside County Bar Association; twice elected as a Chairperson of the Riverside County Bar Association Tax and Business Section.
YMCA's Professional Women's Council
Board member of the Greater Riverside Chambers of Commerce and long-term steering committee member of their Leadership Riverside program.