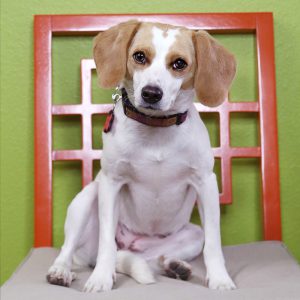 Poppy is the youngest and newest member of the Teresa Rhyne Law Group, where she serves as CSO (Chief Snacks Officer). Poppy is a rescue beagle, born in China and destined for the Chinese "dog meat" trade before she was saved by the Beagle Freedom Project and flown to the United States with ten other dogs. Originally Teresa was just going to foster her, but after Poppy escaped from some prospective adopters and Teresa and Chris spent six days hiking through a 1500-acre mountainous wilderness park and organizing an army of volunteers to find her (spoiler alert: she was found), there was no way they were letting her out of their sights again. That's also how she became the star of Teresa's third memoir "Poppy in The Wild: a lost dog, 1500 acres of wilderness, and the dogged determination that brought her home" (pub date: October 6, 2020 – PRE-ORDER HERE).
Her duties in the office include napping, entertaining clients, squeaking all the toys, and testing all the snacks. She excels at her job.
Poppy loves breakfast and dinner, long walks, sunshine and sunspots, chewing on shoes, shredding anything she can get her paws on, and regular massages. Snacks are also appreciated.