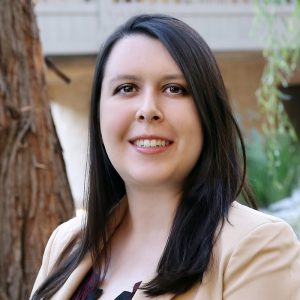 Paralegal
Jessica Buck is the paralegal for the Teresa Rhyne Law Group, our notary, and the back-up for pretty much all other positions. She's the one most like a duck—you know, calm on the outside but paddling furiously underneath.
Born and raised in Riverside, Jessica attended the University of California, Riverside and obtained a Bachelor of Science in Environmental Science in 2015. In 2016, Jessica enrolled in the UCR Extension paralegal training program to obtain her Paralegal degree. While in the program, Jessica joined the Teresa Rhyne Law Group in February 2017 as an intern, and after finishing her internship, was promoted to Administrative Assistant/Office Manager while also taking on paralegal assignments. In October of 2018, after receiving her Paralegal degree, Jessica was again promoted to full-time Paralegal of the Teresa Rhyne Law Group.
In her free time, Jessica is an avid comic book reader and likes to dabble in baking. In February 2019, she and her fiancé, Austin, adopted a puppy from the Moreno Valley Animal Shelter and named him Baldur (Thor's better brother in Norse mythology). Jessica hopes to bring Baldur into the office more once he loses his puppy energy. Teresa hopes for that too.